Monti Kids vs Lovevery! Wonder which montessori toy service is best for newborns? I'm sharing a breakdown of the Monti Kids Level 1 program vs. Lovevery's The Looker play kit and their play gym (since Monti Kids comes with an activity gym).
In short: Overall I ended up preferring the Monti Kids Level 1 – but BOTH are great options and have their own pros and cons! So let's see which one is right for you and your family!
---
Monti Kids Level 1 vs Lovevery The Looker + Play Gym: Which is best for newborns?
I won't go into every single item included in each of these montessori toy subscription boxes since I've already covered that in their individual reviews. You can see everything included in Monti Kids Level 1 here and everything included in Lovevery's the Looker Play Kit here.
I'll start with a couple of major difference to level the playing field of this comparison, then talk about their similarities, then get to the nitty gritty personal preference differences and questions to ask yourself in making the best choice for your family!
Major Difference At A Glance:
The major difference between Monti Kids Level 1 and the Lovevery Play Kit "The Looker" is the price. Monti Kids costs $195 (originally $297 at the time this was originally written) and Lovevery's costs $80. For this reason, I included Lovevery's play gym ($140) in this review to level the playing field a little as Monti Kids includes one.
Pricing
With Lovevery's play gym included, we are looking at a bit more of an even comparison when comparing the $195 for Monti Kids and $220 for Lovevery (cost of the Looker plus the play gym).
In my Monti Kids Level 1 review, you saw that you can recreate the box of toys for about $222 using Amazon or Etsy dupes, which makes the price comparison basically the same in my opinion.
Originally, Monti Kids charged $297 for this box, which meant they had an extra ~$80 attached to its original price tag. What you get with Monti Kids isn't just the toys… which leads me to the next similarity/difference:
Parent Education
With both montessori toy companies you get a level of parent education.
With Lovevery this comes in the form of a little play guide in each play kit. I call these the "Spark Notes" version of developmental milestones your child is working on, tips for utilizing the toys included, and developmentally appropriate activities using everyday items.
You end up paying a little bit more for Monti Kids because, unlike Lovevery, you get a little booklet with tips on the play things, but you also get access to a 12 week parenting course on the items, the research and benefits, milestones, and access to 3 or 4 bonus courses:
Beyond that, you also can join the private Monti Kids families Facebook group for group support on this whole montessori at home parenting thing. Plus you can connect 1-1 with montessori experts for parent coaching to get any additional questions answered either via chat, email, or a 30 minute phone call.
As of 2022, Monti Kids reduced this price, without reducing any of the items/value in this box, making it cheaper than Lovevery's play gym and looker play kit.
Pricing conclusion: TIE
When looking at Monti Kids Level 1 and Lovevery's Play Gym and Looker play kit, it really is a break even tie in my opinion.
While you get 17 physical items between the two Lovevery picks, and 11 physical items from Monti Kids Level 1, you do get the additional resources in Monti Kids and some of the physical items between the Lovevery play gym and Looker play kit are overly similar so I don't suggest getting both for this age.
Of course the cheapest actual out of pocket cost is Lovevery, but you get a ton more support that's valued much greater than the extra $80 you're spending on Monti Kids and I think the items in the Monti Kids one last longer, but I'll get into that in our personal experience/qualitative comparison.
Quality Comparison:
The quality of the two montessori toy subscriptions is basically the same in terms of durability.
They each have pros/cons and beat the other in varying categories. Lovevery slightly wins in terms of sustainability and clean materials because they use organic cotton.
Cleanliness of items: Both use FSC sustainably harvest wood, both use non-toxic water based dyes and inks. Lovevery does prioritize organic cotton, and Monti Kids doesn't mention where they source their wool for their crochet items.
Manufacturing: Lovevery manufactures its items in China, while Monti Kids says it uses a family owned factory in Vietnam, several toys I received say "made in China."

Safety standards: Lovevery states: "Our products are tested to global regulatory safety standards. These standards ensure our toys are safe and can stand up to use and abuse. We also test for the presence of chemicals of concern, including heavy elements and phthalates. All of our toys exceed these rigorous requirements" – so I'm not totally sure what that means exactly as Monti Kids is actually ASTM and CPSC certified and states "Monti Kids toys have passed all US safety testing for ages 0-3, including ASTM and CPSC. They have gone through rigorous testing with the leading third party safety labs. Of all toys in the US, only 4% are marked safe for children under 3, and most of these are plastic and plush. We have worked hard to design wooden toys that meet the highest standards of safety, quality, and educational value for your family."
In my experience, if there's an issue with something from either company, customer service is easy to work with and quickly ships a replacement at no cost to you.
Furthermore, both companies are committed to giving back and create high quality toys that will last generations.
Monti Kids offers a donation program where they've partnered with organizations to bring early education to infants and toddlers living below the poverty line or without access to quality daycares or preschools.
You can donate your old Monti Kids materials to the program. Lovevery on the other hand is working on a marketplace for families to pass the items between families, and they work with a couple of organization to reduce their environmental impact which you can read about here.
Quality Comparison: TIE
The Items:
Both items are great, but I do prefer the variation and overall uniqueness of the Monti Kids toys for newborns compared to Lovevery's.
While Lovevery's items for newborns are great, they are also kind of repetitive. For instance, between the Play Gym and The Looker play kit, you're getting 3 sets of black and white high contrast cards – which is a bit overkill. Plus you are getting 3 other card sets. That's a lot of card sets for anyone!
If you really want card sets, I like the Monti Kids newborn play kit which offers a mirror, black and white card set, and stand for them.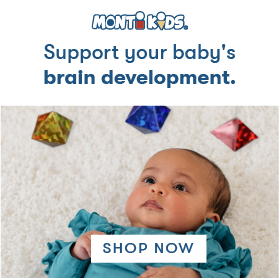 I also never used the black and white mittens from my Looker play kit with either baby. And while the silicone rattle with the removable ball did get some use, it was generally not a preferred item for either of my kids.
Now with that said: Lovevery's The Looker has been updated since I got it. You now get a two sided mobile – which I do think babies will like, but I can say, my baby LOVED the rotation of the four mobiles from Monti Kids Level 1. Especially since they can't grasp stuff initially, these actually gave us some USE. My toddler also LOVES the mobiles.
Lovevery also includes "Sensory links" which I've heard AMAZING things about. I do like how they provide hooks so you can bring them on the go and switch things up, but Monti Kids provides velcro straps to do the exact same thing, but with more age appropriate items in my opinion. I've seen some families use the sensory links for tummy time and stuff, so I know they'll last beyond the newborn stage, but I don't see them as particularly engaging for 0-3 months.
The big win in Lovevery's the Looker is the wooden book. This is probably one of our all time favorite Lovevery items. My toddler still reads it and obviously my newborn loves it. It's perfect for car rides when baby puts everything in their mouth and drools everywhere. Wildly durable. Monti Kids does offer a wooden book in Level 2, but my kids really love this one still.
Maybe I'm just salty because Lovevery removed one of my other favorite items which was the hanging card holder for the car and only left the standing card holder, which is nice and we do get use out of. But the hanging card holder is still in our car and has saved us SO many times on car rides with the kids that I wish they'd add it back in.
Overall I'd say the items in the Monti Kids Level 1 box are more varied in texture, grips, and use which is why I say it wins this round. You get wool, a couple of different wooden graspers that double as teethers, a kicking ball with a unique grip, and of course the four mobiles which work various cognitive developments and are super engaging.
Another question I always get asked from parents considering Lovevery:
Should I get the Lovevery play gym or The Looker play kit since there's so much overlap between the two?
And my answer at this point is just get Monti Kids Level 1 as it's the best of both those Lovevery worlds.
The Activity Play Gyms:
Let me preface this by saying: both are great options!
The biggest differences between the two play gyms are:
Lovevery's includes a play mat, not just a wooden structure
Monti Kids is much taller (this is a huge pro if you have a colicky/refluxy baby who can't be laid on it's back)
Both feature simplified designs where you can encourage deep concentration on only one thing at a time – which is a huge montessori principle.
With that said, not all parents know the benefits of presenting a singular item/activity at a time, especially in the newborn stage. So Lovevery's play gym does leave more room for new, excited parents to have 3 things hanging from it with all five sides open, which can be overstimulating for babies.
Whereas Monti Kids only gives the option for 1 item at a time and can look underwhelming to some adults.
Will you mess up your newborn if you have all five sides open and 3 things hanging from your Lovevery play gym? Absolutely not.
Is it the most "montessori" approach? No.
One of the major benefits to only introducing one item at a time at this age is setting a beautiful foundation for future independent play, self confidence, and creativity.
Mobility:
The Lovevery play gym measures: 24" tall, 50″ wide, and 47" long
The Monti Kids Activity gym measures: 46″ tall x 52″ wide x 39″ long
Meaning the footprint of the Monti Kids activity gym is smaller, but taller. And since there's no mat attached to the bottom, I find it easier to pick up and move around the house. And while the footprint is still kind of big, with no mat under it, it just feels more open in the room.
With my first, our Lovevery play gym was set up in our living room and it never really moved. It was great and we had no issues. But we have a dog who liked to lounge on it, so it is just more annoying to clean compared to Monti Kids when you have animals running through it too.
Now that we have a toddler and a newborn, I found the Lovevery play gym annoying to move around. The mat flaps open and the legs get caught in the door or tight hallways, making it difficult to transport while chasing a toddler with a newborn on my hip.
The Monti Kids activity gym I can just pick up, loop over my arm and hold my baby in that same arm without tripping over a mat – which is quite nice!
Growth into toddlerhood:
When my first became a toddler I would take the Lovevery play gym down and bring it back out with the tent feature on every few months.
While it wasn't hard to disassemble and reassemble, it wasn't easy either and I found I took it out less and less with time and opted for a cheap pop up tent instead or tossed a blanket over our Pikler triangle.
As a toddler, she's LOVES the Monti Kids activity gym. It's big enough for her to lay under it with her brother, or by herself and pretend to be a cat batting whatever item is hanging. It's also tall enough to toss a blanket over and create a cozy tent. She seems to really like it more than the Lovevery play gym.
For colicky/reflux babies:
My son was very colicky and we thought he had silent reflux the first couple of months. He refused to be put down on his back during awake time which made our Lovevery play gym utterly useless due to its height.
However with the Monti Kids activity gym, it was tall enough that we could slide our baby bjorn bouncer or another baby chair underneath it to keep him upright. That combined with their mobiles were some of the only breaks where he was calm those first few couple months.
For this reason, I personally prefer Monti Kids for newborns. You just don't know what your newborn is going to struggle with and I think theirs is a bit more adaptable for parents who may be struggling to put their baby down on their back for whatever reason.
NOTE: Yes I know montessori encourages freedom of movement and not using chairs or "containers" – but parents have to do what's right for them and this was right for us during that time! I would also slide this wedge pillow under the activity gym so he wasn't ALWAYS in a chair, but he often would roll around/down it so I could only do that when completely 100% watching him, which with a toddler and household responsibility wasn't possible for the entirety of every wake window.
Parents with back pain
I had a very rough postpartum and strained my back twice thanks to postpartum hormones that left me completely bedridden for a couple of weeks. I couldn't even lift my son for nighttime feedings.
The height of the Monti Kids activity gym was a lot easier for me to navigate as I felt better. Like I said, he was in a chair for a while which meant neither of us had to get on the floor. Once I was able to move a bit more, I found it much easier to get to my knees and lift / put him down under the Monti Kids activity gym than the Lovevery play gym.
Final Thoughts On Getting The Best Montessori Subscription Box for a newborn:
While you really can't go "wrong" with either, my recommendation is the Monti Kids Level 1 for everything I mentioned.
Most parents will have swaddles to lay under it, which are easy to toss in the wash than Lovevery's play gym mat. Monti Kids Level 1 encompasses the cost of a baby gym, which most parents end up buying anyway and having the group and 1-1 support those first few months can be REALLY priceless!
Now with that said, if you really want a play gym that has a mat, Lovevery's truly is the best on the market! My son also loved being able to kick the ball and bat the bell at the same time and it made him a rolling machine! Like I said, you can't go wrong with either. It just depends on what your preferences and budget are!
If you get the Monti Kids Level 1, here's what I'd would do to re-create the things you're missing from Lovevery's play gym and the Looker:
You can get the Monti Kids montessori newborn play kit, which gives you wooden board book, a mirror, high contrast black and white cards and a few other great items. If you did that, you could honestly skip The Charmer Play Kit from Lovevery and the Level 2 box from Monti Kids if you're looking for the most cost effective path forward and then just supplement with a couple of Lovevery's individual items – but I'll get into that more when I do my Level 2 Monti Kids comparison.
If you wanted to do something cheaper, I'd get these black and white high contrast cards or you can get these which are SUCH GOOD QUALITY! Seriously, tear and drool proof!
Lovevery also offers some real children's faces flashcards with their play gym which I think is great to have. For that I'd either get these for emotions, these for literally anything (body parts, physical items, etc.) or these for learning sign language (no your baby won't learn sign language right away, but will enjoy looking at a real person's face, and will be able to utilize these more as they near 1 years old).
You can also just tape a piece of foil to a piece of cardboard and put it under your babies feet to recreate the "making sounds" side of Lovevery's play gym, so when they naturally kick/jiggle it'll land and create the cause and effect. Or you can get this baby crinkle paper which is great for on the go moments. Those are really the big things "missing" from the Monti Kids Level 1 that I can see newborns utilizing and using throughout the first year.
The other aspects of the Lovevery play gym are intended for beyond the newborn stage so I'm not going to address them here since it doesn't apply yet.
In short:
You can't go wrong with either.
If you are looking for the prettiest items Lovevery wins.
If you're looking for the most montessori items, and a more varied selection of items that will ultimately last further into the toddler years, then Monti Kids Level 1 wins this round.
Both offer high quality, durable items with great customer service. Both will last beyond the newborn stage; though I think Monti Kids level 1 does last a bit longer.
Related Reads
What Is Montessori? | Best Montessori Quotes | Montessori Gift Guide For 1 Year Old to 2 Year Olds | Montessori Playroom For 2 Year Old | Montessori Tips To Encourage Independent Play For Toddlers + Babies [0-3 years old] | Montessori Books For Parents | Tips For Choosing Books For Infants + Toddlers | Things To Avoid When Selecting Books Carefully