Looking for the best montessori toys for your baby? Monti Kids toys are designed by certified Montessori educators with your child's development in mind. The montessori baby toy subscription service and montessori kits for toddlers are delivered right to your door.
They take all of the guesswork out of montessori at home parenting by curating developmentally appropriate toy boxes and providing a ton of supports to parents in their guides, courses, and coaching.
The big question still remains: Is Monti Kids worth the cost? In short, yes – depending on which box you get and what you really want (my personal fave subscription box is still Lovevery).
Despite it's high price tag, I feel it's well worth the cost. Since you are not only purchasing high quality montessori baby toys, but also a parenting e-course and access to both group and 1-1 support with experts. Making it quite the valuable experience for the entire family in my opinion!
But of course, every family is unique so read on to figure out if Monti Kids is worth it to you!
Click here to subscribe to my Youtube channel and never miss a Monti Kids review or unboxing!
What Is Monti Kids?
Monti Kids is a montessori toy subscription service that delivers age appropriate montessori toys and montessori play kits right to your door.
Who is MontiKids for?
Monti Kids is developed for babies from birth to 36 months old.
Monti Kids Story:
Zahra Kassam founded Monti Kids. She's an internationally certified Montessori teacher and earned her Master's In Education from Harvard. She's also the mom of two boys.
Since formal education doesn't really begin until preschool, and 85% of the brain's growth occurs by the age of three, Kassam struggled with how to meet her children's early developmental needs.
She created Monti Kids to help fill that gap in the first few years of life, instilling Dr. Montessori's principles in children by encouraging a lifelong love of learning by giving them access to tools that best support their development and teaching parents how to support their kids as well.
Zahra Kassam found her way onto Shark Tank where Monti Kids did a deal with Kevin O'Leary. He gave her $200k for 2.5 percent (that's an $8 million valuation!!) with a $10 royalty until he earns his money back, followed by a $2.50 royalty until makes $600k.
MontiKids after Shark Tank has since raised over $6 million in VC funding includes investors like LEGO Ventures. Monti Kids net worth is currently in the millions.
Monti Kids Product Lines:
The Montessori Kits:
Monti Kids Montessori Kits are designed by Montessori certified educations and come with the complete high quality materials for specific developmental milestones like toilet learning, cooking together, and the newborn kit.
Each kit also comes with a parent guide and access to the online learning center.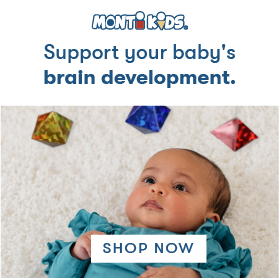 The MontiKids Program:
The Monti Kids Program is their signature montessori box of toys that are based on age, delivered every three months, and classified by "levels."
Each of their boxes are known as "levels" which are broken down by age and shipped every quarter (three months).
Meaning Level 1 is for 0-3 month olds, level 2 is for 4 to 7 month olds, level 3 is for 7-11 month olds, and so on through 36 months old. In total, there are 8 levels.
Within your package, you'll receive instructions on how and when to introduce the toys, how it relates to their developmental stage, and the items pristinely packaged.
As a subscriber, you have access to an indepth video library full of educational and parenting resources. You are also invited to join the exclusive Monti Kids facebook group for subscribers only; which is a great place to get support from other Montessori moms and dads.
You also receive weekly emails and opportunity to connect with the child development experts behind Monti Kids which is HUGE!
Montessori Spaces:
Monti Kids Montessori Spaces line are basically at-home items for your montessori space!
So there's a self care station, montessori toy shelf, wooden trays for activities, and then you can purchase the activity gym from Level 1 and a tent cover (or just the tent cover) there too.
What Does Monti Kids Cost?
Monti Kids offerings range from $25 to $195.
The Montessori Kits vary between $75 to $100; each coming with about 5 to 10 items in it and access to the parent learning center.
The Monti Kids Program age based "level" subscription toy boxes cost $195.
This covers 3 months of toys, and each box typically has up to 12 toys. And it includes access to the parent learning center, expert tutorials, personal coaching for parents, and access to an exclusive parent community.
Going back to the "12 toys" piece… These toys are sometimes bundled items that can be played with in multiple ways.
For instance the Montessori Level 2 box for 4 to 6 month olds includes "12 toys" but it's more than 12 items:
Wooden book
Square rattle
Grasping cylinders
Interlocking Discs
Hex with Balls
Teether Ball
Cube Rattle
Interlocking Rings
Dolio
Cylinder rattle
First blocks (which actually includes 24 pieces)
Dining Set (which includes 6 pieces)
Furthermore, you aren't just paying for the toys, you are also essentially paying for an e-course on montessori parenting and group support from like-minded families with the private Monti Kids Facebook community.
All the toys and information in the parent learning center are designed by educators.

How does Monti Kids work?
Sign up:
You sign up here based on either the level you want or your child's age (which will predetermine the level box).
The level you subscribe with will ship directly to you.
Parent Learning Center:
Once you're signed up, you'll receive a few emails (confirmation, welcome + invite to the private Monti Kids FB group, and access to the parent learning center).
In the parent learning center there are weekly modules for the 3 month span of that specific level box. This explains each item from how to introduce it, the research and benefits of it, and specific explains on their development (gross motor, fine motor, cognitive, visual, etc.)
You'll also receive weekly emails that coincide with the weekly content from the parent learning center, as well as offer more tips for montessori at home.
Additional Parent Support:
Like I mentioned, as part of your "welcome" you'll receive a series of emails include access to the private Monti Kids facebook group which has over 4,000 members for group support.
Beyond that, there's a chat feature on their website for Monti Kids subscribers where you can get quick questions answers about montessori parenting and montessori at home practices.
You also can schedule a 30-minute coaching session with a montessori certified educator to talk about general childhood development questions, setting up your montessori at home space, using the montessori toys, or whatever else.
Basically, they make it so you can stop driving yourself crazy googling all the questions and reading all the mommy blogs (except this one of course!) and talk to actual montessori experts.
Future Shipments:
When you sign up, each proceeding level will ship every 3 months for free in the U.S.
Monti Kids is one of the only montessori toy subscription services to not only ship outside the U.S. but they also ship to 50 other countries, but shipping and custom fees are applied to that.
How To Cancel, Skip, Or Speed Up Your Subscription:
You can cancel your subscription, skip a level, or request it sooner than the 3 month automatic shipment in your online portal. It's very easy….
FAQs About Monti Kids:
Do you have a discount code for Monti Kids?
Yes! Use promo code TCM for $60 off the Monti Kids Program as a new subscriber here!
What are Monti Kids toys made of?
Monti Kids uses sustainably sourced FSC certified solid wood and high-grade plywood. 95% of their toys are actually made from wood!
The wooden toys are then coated in clear finishes, colored paints and stains. All of which are water based and 100% non-toxic. Meaning they are safe for your baby or toddler to put in their mouth – because that's important for sensorial learning after all!
The other 5% of their toys are made from a variety of materials depending on the toy. For example, the mobiles include paper, the balls include crocheted wool, and so on.
Where are Monti Kids toys made?
Monti Kids uses a family owned factory in Vietnam to manufacture their toys, and then they are safety tested in the US.
How do I clean Monti Kids Toys?
Monti Kids recommends wiping all the toys down with a damp washcloth before first use and regularly thereafter.
With that said, because wooden toys are porous and they used water based finishes, it's important to dry the toys right away and avoid any sort of abrasive, chemical cleaner or excessive scrubbing.
Are Monti Lids toys safe?
Yes! Monti Kids toys pass all US safety standards for zero to three years old, including ASTM and CPSC.
This is a HUGE accomplishment as only 4% of toys in the uS are actually marked safe for children under 3 years old (seriously, check the safety label next time you pick up a toy and most of the time it's recommended for 3+ due to choking hazards!). Typically toys approved for the 0-3 age range are plush or plastic, so this is a big accomplishment!
Can I purchase individual Monti Kids toys?
Yes and no. Monti Kids does offer a few individual items through their "Montessori Spaces" line like the Monti Kids' tent.
However the bulk of their toys are pre-packed kits or boxes as part of their educational program.
Each of those pre-done selections includes timelines, video guides, research, and more.
Can I cancel, skip, or speed up my subscription?
Yes! You can do all of the above!
What do I do with Monti Kids toys after my child has outgrown the age range?
First, I want to make this clear: the Monti Kids toys will last BEYOND the age range they are sent. My 2.5 year old toddler LOVES the activity gym and Level 1 items intended for my newborn. So if you plan to have more kids, definitely store them away! And as your child grows out of that level's items, I'd work them into regular toy rotation! You'd be surprised which items find new life a few months down the road.
With that said, I get it can end up feeling like a lot of items in time. In which case you have a couple options:
Gift them:
You can gift the items to friends or family with little ones.
Donate them:
You can obviously donate them to local shops or schools. But Monti Kids also set up a donation program. Given that the materials are so high quality and designed to last well beyond the first few years of life, they partnered with organizations to bring early education to infants and toddlers living below the poverty line who do not have access to quality daycares or preschools.
In your account portal, there is an option to "Donate My Toys" where they'll mail you a free shipping label and packaging instructions.
Why are Montessori Toys and Monti Kids so expensive?
Monti Kids and montessori toys are made from high quality, sustainably sourced materials. Typically montessori toys last a lifetime due to their quality and durability.
With that said, Dr. Maria Montessori originally created her materials using wood and tin because they were cost-effective back in the early 1900s. Due to the industrial revolution, rise in plastic, and aggressive farming practices that's no longer the case and plastic has become the cost-effective option. However montessori enthusiasts have remained true to the original materials due to the sensorial developmental benefits, despite the rising cost to cultivate them.
Monti Kids Reviews:
So I finally caved on Monti Kids because of the reviews.
Of course in Monti Kids vs Lovevery reddit threads you had a slew of montessori teachers and parents saying it was overpriced – which is totally where my mindset was too! In each of my individual level reviews, I'll be sharing where you can find similar items so you can see the price comparison.
But then in a Montessori parents FB group I'm in I kept seeing SO many parents swear by Monti Kids – not just because of the high quality materials and ease, but because of the education and community.
For me, I love to learn and having my Master's In Education like Kassam as well as being a montessori child turned parent myself, I felt like I had a pretty good grasp on early childhood development and montessori. But with that said, I figured I may as well see if I can learn anything new since so many people had asked me my thoughts on Monti Kids and let me tell you, they've done a wonderful job!
I know for so many parents they wonder what they are doing wrong or have talked to me about their kids just not liking simple toys and I think Monti Kids bridges that gap. They give parents the opportunity to really understand their child's learning process and support them in doing so.
Their customer service is also amazing like I said. I had ZERO issues getting a replacement activity gym and they did it all very quickly.
Benefits of Monti Kids Toys:
Learning Through Play
Fosters Independence
Builds self esteem and intrinsic reward system
Improves concentration
Fosters life long love of learning
Monti Kids toys are truly in line with The Montessori Method as they are designed by Montessori certified educators.
One of the most famous Dr. Maria Montessori Quotes is "play is the work of the child" and that's what Monti Kids really strives for with their products.
As both a montessori child and now montessori parent myself, I can tell you there's no greater feeling then to LOVE your work with this philosophy instilled at an early age. I truly love what I do for a living and it gives me no greater joy than to hear my toddler say with such pride, "Reagan working!" while she colors and plays. The Montessori Method of education applied at home fosters independent play and sets a strong foundation for a lifelong love of learning, positive self worth,
What I Love About Monti Kids:
First, the biggest peice I love about Monti Kids toys are obviously the benefits I just mentioned.
Beyond that, I love that all the toys are made from natural materials like wood, food grade silicone, and free of toxins!
Each of the levels is thoughtfully curated by experts and are designed to provide the approbate stimulation and challenges for your child.

I also love that you can actually connect with the developmental experts – yes there is the parent learning center with pre-recorded information, but they go beyond toys. They cover baby sleep, a course on how to talk to your child about race, printables, toilet learning and more. Plus they offer 1-1 support, which is SO nice. It's basically parent coaching AND toys.
Their customer service is also great! I had an issue with my activity gym and they sent me a new one right away at no cost.
Lastly, I love the ease of Monti Kids. They take the guesswork out of montessori parenting and having to curate toys in your home with each new package being delivered every three months automatically.
What I Dislike About Monti Kids:
It's no secret I've always been skeptical about Monti Kids price tag. It comes in quite a bit higher than other montessori toy subscription services out there.
While I still don't love the price, I am finding that it is justified given the amount of support and materials you get beyond just toys. You really are paying for an e-course, toys, and parent coaching in that $195 price tag.
Is Monti Kids Worth the Cost?
At a glance, I have to say my hard "no" that I once has is quickly changing to a "let's see" and "yes" Monti Kids is worth the cost.
Like I said, I'll be reviewing each Monti Kids level individually and finding similar toys to calculate the financial comparison of whether or not it's worth it in that sense and I'll also need to see how my kids continue to engage with the items (qualitative cost) before I can give a solid answer.
But from these last few months, my initial impression is that Monti Kids is worth the cost.
I can 100% attest to them having great customer service and beautiful, quality items right now, and am excited to see how the cost continues to compare financially to similar items and qualitatively to the experience.
At the end of the day, you aren't just buying toys you are also essentially buying a parenting e-course too!