I swear it feels like we spend SO much time in our lives around food: figuring out what to eat, going to the grocery store or out to pick up food, preparing the food, cleaning up after meals, and rinsing/repeating multiple times a day no less! It's exhausting. As a result, we are always looking for ways to save time when it comes to food, recipes, and meals. Here are three food delivery services we absolutely love in my home as a family of three! Covering groceries, prepared food, and a fancier option if you want to restaurant quality at home! This post contains affiliate links.
P.S. with most of us trying to stay at home right now, I've also shared my Cheap Grocery List + Meal Plan for Family On A Budget Grocery Shopping Once A Month
Easy Food Delivery Option #1: Thrive Market
What is Thrive Market:
This is my go to for grocery delivery. Loads of healthy organic pantry staples, home products (where I get all my cleaning supplies!), fish, meats, and even beauty items!
Why I love Thrive Market:
It saves us time and money to put it simply.
They make it SO easy to filter by speciality diet (nut-free, Paleo, gluten-free, vegan, etc.) which has been SO helpful as we've navigated my husband's journey into grain-free and my daughter is egg free and both are sugar free.
Thrive Market's easy filtering has been a HUGE time saver, plus they deliver it right to my door #momwin. With my family's speciality diet, some staple grocery items tend to be pricier, and Thrive Market comes out to be the cheapest option 9/10 for those, saving us money too
What Thrive Market costs:
Membership is $59 a year, but if you click here, you'll get $20 in shopping credit when you join!
Our Thrive Market membership paid for itself in savings in just 2 orders:
---
Easy Food Delivery Option #2: Daily Harvest
What is Daily Harvest:
A meal delivery service for breakfast, lunch, and snacks. Serving up smoothies, bowls, soups, flatbreads, bites, nd even lattes.
Why I love Daily Harvest:
EASY. Delicious. Clean.
Seriously, we love our fruits and vegetables around here! But getting to the store lately for produce can be anxiety producing for many. That's where Daily Harvest comes in and is a huge lifesaver. I love DH because you just grab the container and either blend/heat. It's not like most meal delivery services where you are stuck washing, cutting, cooking etc. It's FAST, which as a mom, is key. In fact, some of my friends even stocked up on a bunch for those early postpartum weeks.
What Daily Harvest costs:
Varies depending on what you get, but items range from as little as $5.99 to $8.99. Click here to get $25 off your first Daily Harvest order!
---
Easy Food Delivery Option #3: Sunbasket
What is Sunbasket:
A meal delivery service for breakfast, lunch, or dinner with recipes or prepared options delivered right to your door.
Why I love Sunbasket:
Time saving, delicious, and wholesome ingredients.
Sunbasket is sort of like the perfect hybrid we've all been looking for in meal delivery. So when you think of most dinner delivery options, you probably think of the big box, with the perfectly portion ingredients and you get to feel like a fancy chef for the night. Which is totally the case here. They have options that you prepare yourself and they deliver all the ingredients and recipe. But they also have pre-done meals that are ready to eat in 5 minutes or less for those days you just can't even think about setting foot into the kitchen; which I LOVE!
They make it easy to sort by speciality diet and have amazing values. They focus on organic produce, clean ingredients (antibiotic/hormone free meats and wild-caught seafood). They also give back through Feeding America.
And of course, it's absolutely delicious!
What Sunbasket costs:
It varies depending on what you get; but plans start as low as $10.99 per serving. Click here to get free shipping on your Sunbasket order!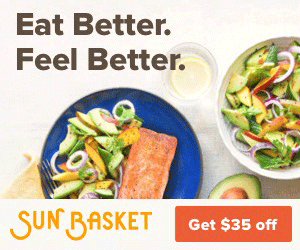 ---
Easy Food Delivery Option #4: InstaCart
What is InstaCart:
Groceries delivered to your door in less than an hour (pending availability of course). They also have an option where you can go into the grocery store and just pick up your order if you'd prefer. InstaCart delivers from Publix, Aldi, Costco, BJ's, Target, CBS, Fresh Market, and a handful of one and liquor stores.
Why I love InstaCart:
Saves some serious time. You can do all your shopping on line and either pick up your groceries on the way home or you can have someone deliver it right to your door.
They also have some exclusive savings on certain products some times so you can potentially save a little extra money too!
What InstaCart costs:
Pricing options for InstaCart start as little as $5.99 for delivery.
>>> Get started with InstaCart today! <<<
---
Easy Food Delivery Option #5:UberEats
What is UberEats:
Food delivery for your favorite local restaurants.
Why I love UberEats:
It's fast, easy, and reliable. I've tried other restaurant delivery options and nothing has been a consistently good experience like UberEats. And it services the most areas.
What UberEats costs:
It varies. I've had delivery for $0.00 and delivery for $7.00. Largely depends on promotions, and distance between you and the restaurant.
>>> Use code eats-rachelr756 for $7 off your first Uber Eats order here! <<<